Honda Civic hatchback K20A Type-R Project.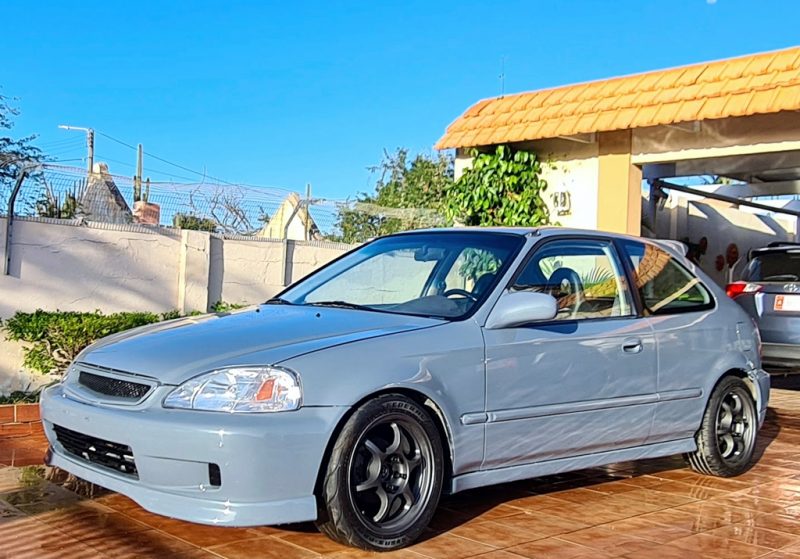 Last Update: July 17, 2023
It is a Canadian Specification LHD Honda Civic. It started life with a D-series engine, automatic, and manual roll-up windows. As some point it was imported to Aruba and went through various swaps. I purchased it abandoned missing the engine, transmission, axles & lots of other parts.
This project was a resto-mod & a K20 swap combined. 99% of the new parts are original Honda parts. Below is the modification list of the car.
Selling Price: Fls. 35.000. Price is non-negotiable. Price will increase as the car is further modified.
Payment plan is available. Car is released after full payment.
EXTERIOR – BODY
1999+ facelift conversion (headlights, fenders, front bumper, rear bumper, rear taillights).
Grey FK8 Honda Civic Type-R s paint job.
Civic EK9 Type-R kit (center grill, front lip, side skirts, rear lip).
Spoon replica rear wing.
Carbon fiber look rear license plate garnish plate.
Seibon carbon fiber hood.
New original Honda weather stripping.
Rear bumper diffuser.
Front HID Headlight 4500K.
Fender liners and new clips.
INTERIOR – BODY
New red interior carpet.
Dark grey roof liner.
Pioneer head unit, Pioneer 150W front & rear speakers.
New original fasteners, clips etc on some places.
2000 Civic Si gauge cluster.
JDM S2000 front seats.
Integra Type-R shifter boot.
Turbo Smart 52mm gauge pod.
Acura RSX- Type-S 6-Speed shifter knob (black lettering).
JDM DC5 Integra Type-R Momo Steering wheel.
Automatic brake pedal swapped with a manual brake pedal and bracket.
Carbon fiber fuel tank cover.
No rear seats (bought it that way).
Sound deadening material removed. ~30lbs weight saving.
ENGINE
2002 JDM Honda Civic Type-R K20A engine.
Hybrid Racing EKK2 motor mounts, green bushings.
K-Tuned billet anodized oil cap.
K-Tuned billet anodized dip stick.
K-Tuned breather filter.
Skunk2 billet battery hold down clamp.
Skunk2 Valve cover hardware.
Billet aluminum power steering pulley.
INTAKE
Ported RBC intake manifold.
K-Tuned map sensor plug.
K-Tuned 3.5″ air intake.
K-Tuned velocity stack.
Custom 3.5″ polished aluminum air intake pipe.
ARP polished intake manifold bolts.
K-Tuned 80mm throttle body.
Throttle body heater bypass mod.
Acuity throttle position sensor.
New OEM Civic throttle cable.
EXHAUST
ASP 4-1 Big Tube Race header.
K-teller 3″ mandrel bend stainless steel exhaust piping with v-band.
Vibrant 3″ stainless steel resonator.
3″ stainless steel flex.
K-tuned 3″ turn-down muffler.
ELECTRONICS / WIRING
2002 Civic Type-R engine wire harness.
Ry-wire chassis conversion harness.
Link G4X HC20 ECU
Link 52mm CAN Gauge
Link CAN Lambda Controller & wideband sensor
AC custom wiring, controlled by Kpro.
Custom charge harness.
FUELING
Hybrid Racing fuel rail.
Hybrid Racing tucked braided fuel lines.
Hybrid Racing inline fuel filter.
Acura RDX 410cc injectors.
AEM fuel pressure regulator.
K-Tuned fuel pressure regulator bracket.
Titan Motorsports fuel pressure gauge.
Walbro 255-lph in-tank fuel pump.
DRIVETRAIN
2002 JDM Civic EP3 Type-R 6-Speed manual transmission (NPR3).
2002 JDM Civic EP3 Type-R LSD Differential.
JDM Civic EP3 Type-R 36mm half shaft.
JDM Integra DC5 Type-R 36mm front axles.
ARP extended front and rear wheel studs.
Yonaka 36mm hubs.
New front wheel bearings.
Electric to hydraulic Acura RSX power steering conversion.
K-Tuned Race shifter cables.
K-Tuned Street Ver 2 Billet Shifter.
K-Tuned billet shifter stops.
K-Tuned Billet Firewall Billet Shifter Cable Grommet.
Civic EG power steering rack.
Exedy Pro Stage 2 Clutch kit.
Exedy Lightweight Flywheel.
New Denso starter.
Honda S2000 clutch master cylinder.
Hybrid Racing braided clutch line.
Acuity shifter bushings upgrade.
SUSPENSION – BRAKES – WHEELS
Civic EG subframe.
Skunk2 Pro coilover suspension.
JDM Integra Type-R front lower control arms.
Buddy Club P1 Racing front camber kit.
New front ball joints.
New front anti-roll bar links.
Integra DC2 Type-R front anti-roll bar.
DC2 Integra Type-R front forks.
Front traction bar kit.
New front tie-rod ends.
Skunk2 billet rear lower arms.
Rear sub-frame brace.
Spoon rear strut tower brace.
Perma-Cool power steering cooler.
RSX power steering reservoir.
RSX power steering lines.
New brake fluid reservoir.
Brembo front rotors & brake pads
Brembo rear rotors & brake pads
Civic EX front brake conversion
Integra rear brake disc conversion – New Brembo discs and pads.
K-Tuned braided brake master cylinder hose.
15″ Black Racing Pro N1 wheels. plasti-dipped in gunmetal color.
Includes: 2x XXR 15″x8 wheels with Hoosier 225/50/15 drag radials (new).
COOLING – AC
Hybrid Racing aluminum half radiator.
Hybrid Racing radiator cap.
Hybrid Racing K-swap silicone radiator hoses.
Hybrid Racing electric radiator fan.
K-Tuned heater bypass mod kit.
Civic radiator overflow tank.
Hybrid Racing AC conversion lines.
Hybrid Racing electric condenser fan.
New AC condenser.
New AC lines.
New AC dryer.
New AC pressure switch.
REALITY OF A SWAPPED CAR
Note: the list below might change if issues are corrected. However note that the car will be sold "As-Is".
General: It is not a show car.
It has almost all sound deadening material removed from the body. It is loud inside and it will rattle a lot due to its polyurethane engine mount bushings.
Driver-side roll-up window needs alignment.
Door cards are repaired but are not perfect (common Civic problem).
Car delays to start if the battery is low. Battery always needs to be fully charged.
Roof liner needs to be re-upholstered.